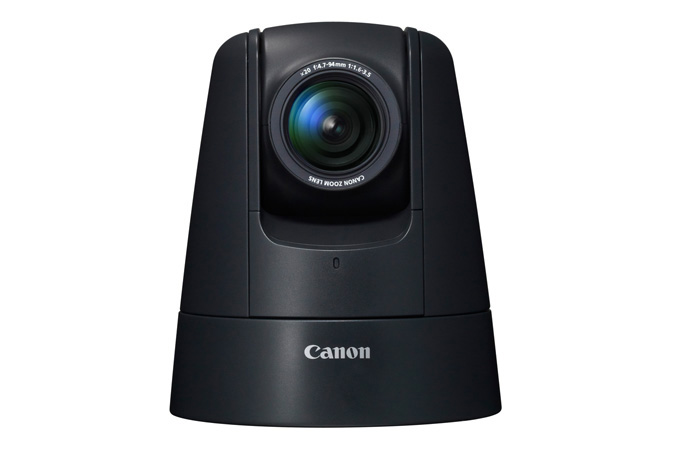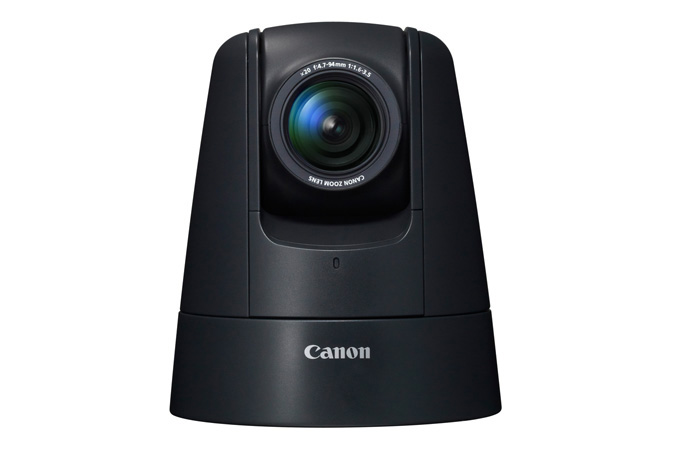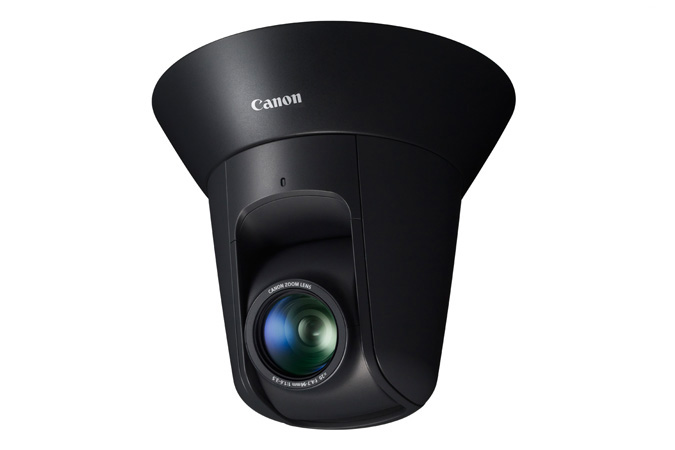 VB-H45 PTZ Network Camera
This product has been discontinued by the manufacturer and is no longer available. Please see
Canon VB-H47
as a direct replacement.
Canon's VB-H45 PTZ (Pan/Tilt/Zoom) Network Camera brings a high standard of image quality and capability to meet the demanding needs of the security marketplace. With a 2.1 Megapixel native resolution (1920x1080) and a 20x optical zoom lens, the VB-H45 can capture detailed images even at a distance. This camera also features exceptional low light capability, boasting an impressive minimum subject illumination level of 0.05 lux in color at 1/30 shutter speed. Enhanced presets allow the user to save up to 64 presets that include pan, tilt and zoom positions as well as image exposure settings to ensure that the cleanest image can be attained even in the most challenging lighting situations.
The VB-H45 comes equipped with a wide variety of features to adapt to almost any need. The Mobile Viewer allows the user to control the positioning of the camera on their phone or tablet device with the tap of a finger. On-board Analytics, such as motion detection and line-crossing detection, are available for intelligent monitoring - even in the absence of security personnel. To top it all off, ONVIF Profile S compatibility ensures that this camera will be compatible with many different video management solutions and cross-browser support allows the user to continue working with their favorite browser of choice. The VB-H45 PTZ Network Camera is designed with the user in mind and built to exceed the many demands for image quality, network security, performance, usability and economy in use.
Features and Benefits
Specifications
Downloads and Brochures
20x Optical Zoom with Fast and Precise Pan/Tilt Mechanism
2.1 Megapixel (Native 1920 x 1080 Full HD Resolution)
Updated 1/3 type CMOS Sensor with Superb Low Light Performance
Enhanced Presets That Include PTZ Positioning and Video Settings
Advanced DIGIC DV III Image Processor Helps Maximize Image Quality and Minimize Power Consumption
Area Specific Data Size Reduction and Motion Adaptive Noise Reduction
Smart Shade Control and Auto Gain Control Limit
Powerful DIGIC NET II Processor Allows Simultaneous Streaming of M-JPEG and H.264 Codecs in Multiple Resolutions
On-Board Video Analytics and Versatile Functions
Multiple Networking Functions
ONVIF Profile S and G Conformant
Built-in SD Card Slot with Enhanced SD Card Functionality
Various Power Options (12 V DC, 24 V AC and PoE IEEE 802.3af)
Camera Specifications

IMAGE SENSOR
1/3" CMOS (RGB)
NUMBER OF EFFECTIVE PIXELS
Approx. 2.1 million pixels
SCANNING METHOD
Progressive Scan
LENS
20x optical zoom lens with auto focus
FOCAL LENGTH
4.7 (Wide) – 94mm (Tele)
F-NUMBER
F1.6 (Wide) – F3.5 (Tele)
DIGITAL ZOOM
20x
HORIZONTAL VIEWING ANGLE (16:9)
60.4° (Wide) – 3.2° (Tele)
VERTICAL VIEWING ANGLE (16:9)
35.1° (Wide) – 1.8° (Tele)
DAY / NIGHT MODE
Yes
I/R CUT FILTER
Automatically removable infrared-cut filter
MIN. SUBJECT ILLUMINATION - DAY (COLOR)
0.05 lux (F1.6, shutter speed 1/30 sec.)
MIN. SUBJECT ILLUMINATION - NIGHT (MONOCHROME)
0.003 lux (F1.6, shutter speed 1/30 sec.)
FOCUS MODES
Auto/One-shot AF/Manual/Fixed at infinity
SHOOTING DISTANCE
Day Mode: 0.3m (12 in.) – infinity (Wide), 1.0m (3.3 ft.) – infinity (Tele)
Night Mode: 1.0m (3.3 ft.) – infinity (Wide), 1.5m (4.9 ft.) – infinity (Tele)
SHUTTER SPEED
1 - 1/16000 sec.
EXPOSURE MODES
Auto/Auto (Flickerless)/Auto (Shutter-priority AE)/Auto (Aperture-priority AE)/
Manual (Shutter Speed, Aperture, Gain)
WHITE BALANCE
Auto/Light Source (Daylight Fluorescent/White Fluorescent/WarmFluorescent/Mercury Lamp/Sodium Lamp/Halogen Lamp)/Manual(One-shot WB/R Gain/B Gain)
METERING MODES
Center-Weighted/Average/Spot
EXPOSURE COMPENSATION
9 levels
SMART SHADE CONTROL
Auto / Manual / Disable
Auto: 3 Levels
Manual: 7 Levels
HAZE COMPENSATION
Auto/Manual/Disable
Auto: 3 levels
Manual: 7 levels
AGC LIMIT
6 levels
IMAGE STABILIZER
Digital (2 Levels)
MOTION ADAPTIVE NOISE REDUCTION
Available
PAN RANGE
340° (±170°)
TILT RANGE
100° (ceiling-mounted position: -90° – +10°)
PAN / TILT SPEED
Pan: Max. 150°/sec.
Tilt: Max. 150°/sec.

Server Specifications

VIDEO COMPRESSION METHOD
MJPEG, H.264
RESOLUTION
16:9 (1080p) - 1920x1080, 960x540, 480x270

16:9 (720p) - 1280 x 720, 640 x 360, 320 x 180

4:3 - 1280 x 960, 640 x 480, 320 x 240
VIDEO QUALITY
MJPEG, H.264: 10 levels
FRAME RATE
MJPEG: 0.1 – 30 fps
H.264: 1/2/3/5/6/10/15/30 fps
ADSR: AREA-SPECIFIC DATA SIZE REDUCTION
Number of Specified Areas: Max. 8 windows
I-FRAME INTERVAL
0.5/1/1.5/2/3/4/5 sec.
SIMULTANIOUS CLIENT ACCESS
Max. 30 Clients + 1 Admin Client
– H.264: Max. 10 Clients
USER ACCOUNTS
Administrator, Authorized user, Guest user
ACCESS CONTROL
User authentication (user name and password), Host Access Restrictions (IPv4, IPv6)
ENCRYPTED COMMUNICATIONS
SSL/TLS, IPsec (Auto Key Exchange/Manual)
IEEE 802.1X
EAP-MD5, EAP-TLS, EAP-TTLS, EAP-PEAP
ONVIF
ONVIF Profile S
IPv4 PROTOCOL
TCP/IP, UDP, HTTP, FTP, SNMPv1/v2c/v3 (MIB2), DHCP, DNS, AutoIP, mDNS, ARP, ICMP, POP3, NTP, SMTP, RTP/RTCP, RTSP, SSL/TLS, IPsec, ONVIF, WV-HTTP (Canon proprietary)
IPv6 PROTOCOL
TCP/IP, UDP, HTTP, FTP, SNMPv1/v2c/v3 (MIB2), DHCP, DNS, AutoIP, mDNS, ARP, ICMP, POP3, NTP, SMTP, RTP/RTCP, RTSP, SSL/TLS, IPsec, ONVIF, WV-HTTP (Canon proprietary)
AUTO IP (LINK-LOCAL)
Yes
AUDIO COMPRESSION METHOD
G.711 μ-law (64 kbps)
AUDIO COMMUNICATION METHOD
Full-duplex (two-way)/half-duplex (One-way communication)
RTP, Sound Transfer Protocol by Canon
AUDIO FILE PLAYBACK
Available
PRIVACY MASK
Number of registration: Max. 8 places,
Number of mask colors: 1 (select from 9 colors)
VIEW RESTRICTION
Available
PRESETS
Max. 64 positions
INTELLIGENT FUNCTION - VIDEO
Moving object detection, abandoned object detection, removed object detection, camera tampering detection, passing detection and intrusion detection
INTELLIGENT FUNCTION - AUDIO
Volume Detection & Scream Detection
INTELLIGENT FUNCTION - DETECTION ZONES
Max. 15
EVENT TRIGGER TYPE
External Device Input, Timer, Intelligent Function (Video), Intelligent Function (Audio), Day/Night Switch
IMAGE UPLOAD
FTP/HTTP/SMTP (e-mail)
EVENT NOTIFICATION
HTTP/SMTP (e-mail)
ON-SCREEN DISPLAY
Available
IMAGE CROPPING FUNCTION
Digital PTZ
Cropping sizes: 640 x 360/512 x 288/384 x 216/256 x 144/128 x 72 640 x 480/512 x 384/384 x 288/256 x 192/128 x 96
ENHANCED DIGITAL ZOOM
Available
DAYLIGHT SAVING TIME
Available
CUSTOM SETTINGS
Available

Interface Specifications

NETWORK TERMINAL
LAN x 1 (RJ45, 100Base-TX (auto/full-duplex/half-duplex))
AUDIO INPUT TERMINAL
Φ3.5mm (Φ0.14 in.) mini-jack connector (monaural) Switch LINE IN/MIC IN in the setting page.
AUDIO OUTPUT TERMINAL
Φ3.5mm (Φ0.14 in.) mini-jack connector (monaural) LINE OUT x 1 (connect to an amplifier speaker)
EXTERNAL DEVICE I/O TERMINAL
Input x 2, Output x 2
ANALOG VIDEO OUT
N/A
MEMORY CARD TYPE
SD Memory Card, SDHC Memory Card, SDXC Memory Card Compatible
MEMORY CARD RECORDED CONTENT
Log, Video (Event, Manual, ONVIF, Timer, Upload)

Operating Environment Specifications

TEMPERATURE
Temperature: -10°C – +50°C (+14°F – +122°F)
HUMIDITY
Humidity: 5% – 90% RH (without condensation)

Power Supply Specifications

PoE
PoE power supply via LAN connector (IEEE802.3af compliant)
AC ADAPTER
PA-V18(100 - 240 V AC) (sold separately)
EXTERNAL POWER SOURCE
24 V AC/12 V DC

Maximum Power Consumption

WITH PoE
Max. approx. 9.2 W
WITH AC ADAPTER
PA-V18 Max. approx. 9.9W (100 VAC)
PA-V18: Max. approx. 9.4W (240 VAC)
WITH 12VDC
Max. approx. 8.6 W
WITH 24VAC
Max. approx. 8.8 W

Other Specifications

DIMENSIONS
(φ x H) φ132 x 155mm (φ5.20 x 6.10 in.)
MOUNTING POSITION
Ceiling mount
HEATER
N/A
WEIGHT
Approx. 1140 g (2.52 lb.)
OUTDOOR READY
No
IP RATING
N/A
VANDAL RESISTANT
No
IMPACT RESISTANCE
N/A
There are no downloads available for this product at this time.