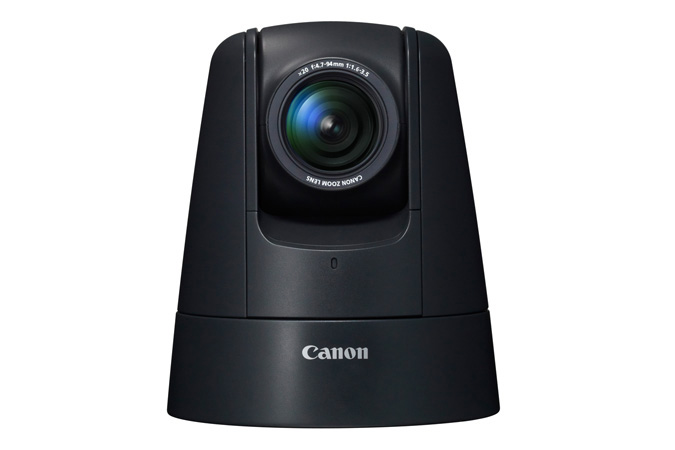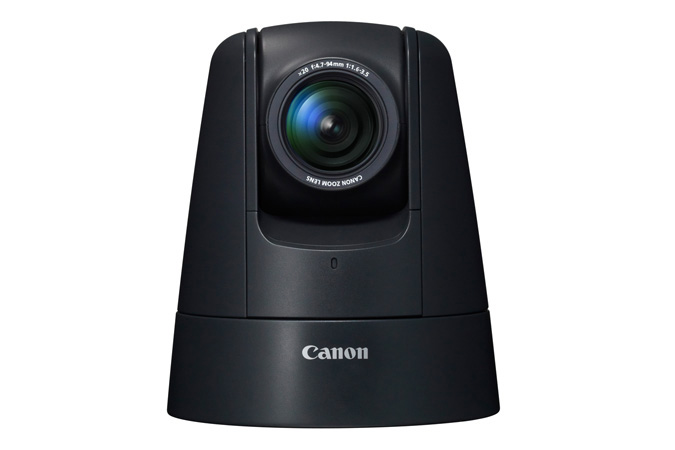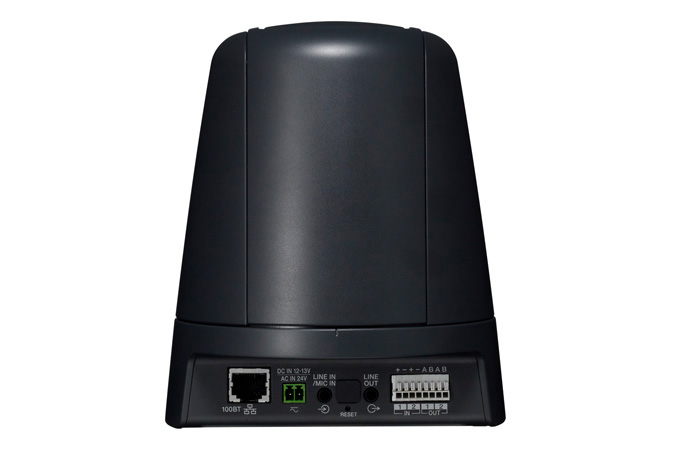 VB-M46 PTZ Network Camera
The VB-M46 inherits the high performance features of previous Canon PTZ (Pan-Tilt-Zoom) cameras, but includes significant improvements with a new image sensor and processor. Ideal for the security and surveillance markets, the VB-M46 contains a new 1.3 megapixel high sensitivity image sensor (1280 x 960) and 20x optical zoom lens which provides exceptional low light performance with a minimum subject illumination level of just 0.02 lux at 1/30 shutter speed. The new image processor provides high quality video streaming, including H.265, H.264, and MJPEG video formats up to 60 fps.
Other improvements include High Dynamic Range (HDR) that combines frames of different exposure, giving the user even exposure over the camera's field of view. Along with improved video, the VB-M46 also now supports the AAC-LC audio standard for improved audio quality up to 48 kHz at 128 kbps.
An available simple camera setting allows users to instantly set their camera up to fit their application such as Motion Priority, Low Light Visibility, Depth Priority, and Data size reductions.
Various power sources include Power over Ethernet (PoE), 12V DC, as well as the optional PA-V18 ac adapter. The VB-M46 also supports ONVIF profile T to allow for quick integration with 3rd party video management solutions. With all the new features and performance enhancements, the Canon VB-M46 continues the Canon tradition of exceeding the demands of the security and surveillance market.
Features and Benefits
Specifications
Downloads and Brochures
20x Optical Zoom with Fast and Precise Pan/Tilt Mechanism
1.3 Megapixel Sensor (Native 1280 x 960 Resolution) up to 60 FPS
Updated 1/2.8 type CMOS type CMOS Sensor with Superb Low Light Performance
Enhanced Presets That Include PTZ Positioning and Video Settings
Advanced New Image Processor Helps Maximize Image Quality and Minimize Power Consumption
Area Specific Data Size Reduction and Motion Adaptive Noise Reduction
Wide Dynamic Range (WDR)
Simultaneous Streaming of H.265. H.264, and M-JPEG Codecs in Multiple Resolutions
2-way Audio supporting both AAC-LC and G-711 Audio formats
On-Board Video Analytics and Versatile Functions
ONVIF Profile T Conformant
Built-in SD Card Slot with Enhanced SD Card Functionality
Various Power Options (12 V DC and PoE IEEE 802.3af)
CAMERA

IMAGE SENSOR
1/2.8 type CMOS
NUMBER OF EFFECTIVE PIXELS
Approx. 1.3 million pixels
SCANNING METHOD
Progressive
LENS
20x optical zoom lens with auto focus
FOCAL LENGTH
4.7 (W) – 94 mm (T)
F-NUMBER
F1.6 (W) – F3.5 (T)
DIGITAL ZOOM
16X
HORIZONTAL VIEWING ANGLE (16:9)
Horizontal: 62.4° (W) – 3.3° (T)
VERTICAL VIEWING ANGLE (16:9)
Vertical: 36.3° (W) – 1.9° (T)
DAY/NIGHT MODE
Auto/Day Mode/Night Mode
I/R CUT FILTER
Automatically removable infrared-cut filter
MIN. SUBJECT ILLUMINATION - DAY (COLOR)
0.02 lux (F1.6, shutter speed 1/30 sec., 50IRE)
MIN. SUBJECT ILLUMINATION - NIGHT (MONOCHROME)
0.003 lux (F1.6, shutter speed 1/30 sec., 50IRE)
FOCUS MODES
Auto/One-shot AF/Manual/Fixed at infinity
AF RESPONSE SPEED
High, Normal, and Low
SHOOTING DISTANCE
Day Mode: 0.3 m (12 in.) – infinity (W), 1.0 m (3.3 ft.) – infinity (T)
Night Mode: 1.0 m (3.3 ft.) – infinity (W), 1.5 m (4.9 ft.) – infinity (T)
SHUTTER SPEED
1 - 1/16000 sec.
EXPOSURE MODES
Auto/Auto (Flickerless)/Auto (Shutter-priority AE)/Auto (Aperture-priority AE)/Manual
WHITE BALANCE
Auto/Light Source (Daylight Fluorescent/White Fluorescent/WarmFluorescent/Mercury Lamp/Sodium Lamp/Halogen Lamp)/Manual(One-shot WB/R Gain/B Gain)
METERING MODES
Center-Weighted/Average/Spot/Specify Area
EXPOSURE COMPENSATION
13 levels
WDR
Available
SMART SHADE CONTROL
Available
HAZE COMPENSATION
Available
AGC LIMIT
Available
IMAGE STABILIZER
Digital (2 Levels)
MOTION ADAPTIVE NOISE REDUCTION
Available
CLEAR IR
n/a
PAN ANGLE RANGE
340° (±170°)
TILT ANGLE RANGE
100° (ceiling-mounted position: -90° - +10°)
ROTATION ANGLE RANGE
N/A
IR ILLUMINATION RANGE
N/A
MOVING SPEED
Pan: Max. 150°/sec., Tilt: Max. 150°/sec.

SERVER

VIDEO COMPRESSION METHOD
JPEG, H.264, H.265
BIT RATE CONTROL
CBR (Constant Bit Rate), VBR (Variable Bit Rate), MBR (Maximum Bit Rate)
VIDEO SIZE
JPEG, H.264, H.265: 1920 x 1080, 1280 x 720, 960 x 540, 640 x 360, 480 x 270, 320 x 180 1280 x 960, 640 x 480, 320 x 240
VIDEO QUALITY
JPEG, H.264, H.265: 10 levels
FRAME RATE
System frequency 60 Hz: 1, 5, 7.5, 10, 15, 30, 60 fps
System frequency 50 Hz: 1, 2.5, 5, 6.25, 10, 12.5, 25, 50 fps
MAXIMUM FRAME RATE
60 fps
ADSR: AREA-SPECIFIC DATA SIZE REDUCTION
Number of Specified Areas: Max. 8 windows
I-FRAME INTERVAL
Available
SIMULTANIOUS CLIENT ACCESS
Max. 30 Clients + 1 Admin Client
– H.264: Max. 10 Clients
– H.265: Max. 10 Clients
CAMERA CONTROL
Administrator, Authorized user, Guest user
ACCESS CONTROL
User authority (user name and password), Host Access Restrictions (IPv4, IPv6)
ENCRYPTED COMMUNICATIONS
SSL/TLS
IEEE 802.1X
EAP-TLS, EAP-TTLS, EAP-PEAP
ONVIF Version
Profile-S, Profile-G, Profile-T
IPv4 PROTOCOL
TCP/IP, UDP, HTTP, SNMPv1/v2c/v3 (MIB2), DHCP, DNS, AutoIP, mDNS, ARP, ICMP, POP3, NTP, SMTP, RTP/RTCP, RTSP, SSL/TLS, ONVIF, WV-HTTP (Canon proprietary)
IPv6 PROTOCOL
TCP/IP, UDP, HTTP, SNMPv1/v2c/v3 (MIB2), DHCP, DNS, AutoIP, mDNS, ARP, ICMP, POP3, NTP, SMTP, RTP/RTCP, RTSP, SSL/TLS, ONVIF, WV-HTTP (Canon proprietary)
AUTO IP (LINK-LOCAL)
Yes
AUDIO COMPRESSION METHOD
G.711 µ-law (64 kbps), AAC (16/48 KHz, 16/32/64/96/128 Kbps)
AUDIO COMMUNICATION METHOD
Full-duplex (two-way)/half-duplex RTP, Sound Transfer Protocol by Canon
AUDIO FILE PLAYBACK
Available
PRIVACY MASK
Number of registration: Max. 8 places, Number of mask colors: 1 (select from 9 colors)
VIEW RESTRICTION
Available
PRESETS
Number of registers: Max. 64 positions (+Home Position)
Number of Preset Tour Route: Max. 5
INTELLIGENT FUNCTION - VIDEO
Moving Object Detection, Abandoned Object Detection, Removed Object Detection, Camera Tampering Detection, Passing Detection, Intrusion Detection, Face Detection
INTELLIGENT FUNCTION - DETECTION SETTINGS
Max. 15
INTELLIGENT FUNCTION - VOLUME
Volume Detection
EVENT TRIGGER TYPE
External Device Input, Intelligent Function, Timer, Day/Night Mode Switching
Number of Linked Events: 2
Linked Event Conditions: OR, AND (whether or not there is a sequence to events)
IMAGE UPLOAD
FTP/FTPS/HTTP/HTTPS/SMTP/SMTPS (e-mail)
EVENT NOTIFICATION
HTTP/HTTPS/SMTP/SMTPS (e-mail)
ON-SCREEN DISPLAY
Available
IMAGE CROPPING FUNCTION
Digital PTZ
ENHANCED DIGITAL ZOOM
Available
DAYLIGHT SAVING TIME
Available
CUSTOM SETTINGS
Available

INTERFACE

NETWORK TERMINAL
LAN x 1 (RJ45, 100Base-TX (auto))
AUDIO INPUT TERMINAL
?3.5 mm (?0.14 in.) mini-jack connector (monaural) LINE IN or MIC IN
AUDIO OUTPUT TERMINAL
?3.5 mm (?0.14 in.) mini-jack connector (monaural) LINE OUT
EXTERNAL DEVICE I/O TERMINAL
Input x 2, Output x 2
ANALOG VIDEO OUT
N/A
MEMORY CARD TYPE
SD Memory Card, SDHC Memory Card, SDXC Memory Card Supported.
– Class 10 recommended.

OPERATING ENVIRONMENT

TEMPERATURE
Temperature: -10°C - +50°C (+14°F - +122°F)
HUMIDITY
Humidity: 5% - 85% (without condensation)

STORAGE ENVIRONMENT

TEMPERATURE
Temperature: -30°C – +60°C (-22°F – +140°F)
HUMIDITY
5% – 90% (without condensation)

POWER SUPPLY

PoE
PoE power supply via LAN connector (IEEE802.3at Type1 compliant)
AC ADAPTER
PA-V18 (100 – 240 V AC) (sold separately)
EXTERNAL POWER SOURCE
12 V DC

POWER CONSUMPTION

WITH PoE
Max. approx. 9.1 W
WITH AC ADAPTER
AC Adapter PA-V18: Max. approx. 9.2 W (100 V AC)
Max. approx. 9.7 W (240 V AC)
WITH 12VDC
7.9 W
WITH 24VAC+
n/a
WITH PoE +
n/a

OTHER

DIMENSIONS
(f x H) f132 x 155mm (f5.20 x 6.10 in.)
MOUNTING POSITION
Ceiling
HEATER
N/A
WEIGHT
1100 g (2.43 lb.)
OUTDOOR READY
No
IP RATING
N/A
VANDAL RESISTANT
No
IMPACT RESISTANCE
N/A
Certifications and Compatibility
EN 55032 class A, FCC part15 subpart B class A, ICES-003 class A, VCCI class A, RCM AS/NZS EN55032 class A, EN 55035, IEC EN 63000:2018 IEC/EN 62368-1 3'rd ed., UL 62368-1 3'rd ed
There are no downloads available for this product at this time.